Frequently Asked Questions
What do you suggest I bring?
I suggest you bring the following items:
2 or 3 rods and reels per person spooled with fresh 15-20 lb test line
Appropriate seasonal clothing
Rain Suit
Sunglasses (Polarized for sight fishing in the Spring)
Sun Screen
Fishing Cap
Camera (I will take digital pictures and will gladly email those to you)
Favorite snacks and drinks (The boat is equipped with an ice chest and I provide the ice and bottled water)
Texas Resident Freshwater Fishing License or Non-resident Freshwater Fishing License
What type of boat does Stanley use?
We will be fishing out of a Skeeter ZX 225 boat with a Yamaha 225HP V-Max motor.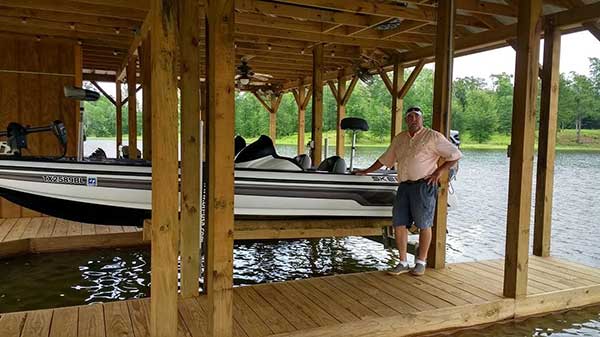 Where do you launch?
All of our guided trips launch from our boathouse at:
217 CR 776
Douglass, TX 75943
Do you furnish rods, reels, and lures?
All lures will be furnished at no additional cost. I can furnish rods and reels if needed, but I highly recommend bringing your own if possible. There is no additional charge for the use of my rods and reels, but I do ask that you replace any equipment if they are damaged during your trip. Please let me know in advance if you will need to use my equipment.
Are you insured?
Yes, we are fully insured.
What will we do for breakfast and lunch on a full day trip?
Please eat breakfast prior to arrival for your trip. Lake Nacogdoches does not have a place to eat on the lake. For a full day trip, I will provide lunch at my boathouse. If you prefer to bring your own sack lunch and eat on the water that will be fine also.
Please know that taking a break does not cut into our fishing time at all. We will still fish 9 hours no matter what we do for lunch. Please just let me know in advance if you plan on bringing your own sack lunch so I can be prepared.
Can I keep the fish I catch?
I prefer all largemouth bass to be "catch and release". However, we will follow state law for Lake Nacogdoches.
Can you suggest a motel?
There are many places to stay in Nacogdoches, which is approximately 15 miles from the lake.
Do you accept checks?
No. You can pay your deposit or pay in full by credit card using PayPal. Please note: If you only pay your deposit in advance of your scheduled trip, the balance is due upon arrival. You must bring cash or money order. NO CHECKS ACCEPTED.
All other questions.
If you have any questions that are not listed, please don't hesitate to email or call me. I would be more than happy to answer any questions you might have!